Among Us' December 2022 Update is currently available on all platforms. The primary feature of this new update is its new Hide And Seek game mode. Unlike its traditional classic mode, this new mode provides its players with more heart-pounding chasing gameplay. Among Us also unveiled many new cosmetics that can be obtained in the game.
How to Play Among Us Hide N Seek?
The ship had been infiltrated by imposters who managed to disguise themselves as crewmates. The rules are quite simple:
Players can choose to be either crewmate or imposter freely, and then all crewmen have a few seconds to hide. As a crewmate, you must never stop hiding and escaping to survive until the time runs out. As an imposter, you must catch and kill as many crewmates as possible before the end of the game.
Crews can complete mini-tasks to make the time go faster.
Keep your distance from the imposters! Watch the danger meter bar on the top-left corner. If the imposter is not nearby, the bar will be fully empty. If your enemy is only a few steps away, the bar will be red as the music gets louder.
In the last few seconds, Imposters will get boosted, given a map marked with the exact locations of all crewmates, and a ping to direct all survivors.
Four Filter Options
Beginner: For all rookies of Among Us game.
Casual: For players who only want to have fun but do not get deep gameplay.
Serious: For gamers who are eager to win.
Expert: For Best Among Us players in the world.
Pet Your Pets!
Players are allowed to pet their pets in lobbies and anywhere in this game. Get close to your pet and then there will be a button appeared. Hold it for a few secs, so that you can adore your favorite pets.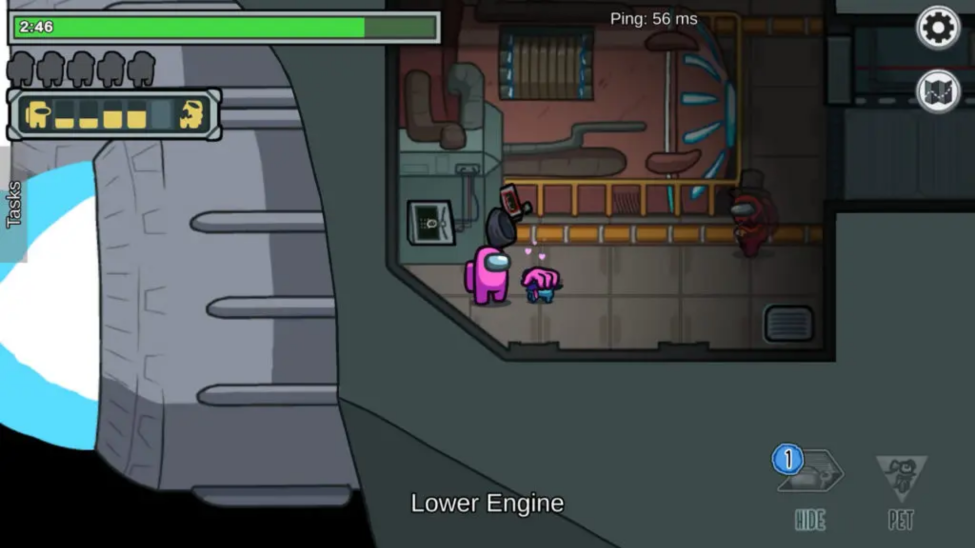 New Haunt Button
Among Us also introduced another new feature in this latest update. The brand new Haunt Button will enable players to have an overview of the whole gaming process and follow any Crewmate or Imposter as a ghost to know whether they win or lose in the end.